openWeb: Dyslexia Friendly Browser
I'll tell you the truth: I made this one mostly for myself, and after a month or so of using it, I got all the bugs cleaned up and decided to share it.
Basically, you can't set font options in Mobile Safari on the iPhone. You can't force colors on Mobile Safari on the iPhone. This irritated me. So, with a little bit of the magic of open source software, I was browsing the web on my iPhone with my font, my stylesheet, and a little bit of js to make symbols more visible. And, unlike Mobile Safari, you can full screen by pressing and holding on the screen..
It looks like this (well, with Ars Technica loaded):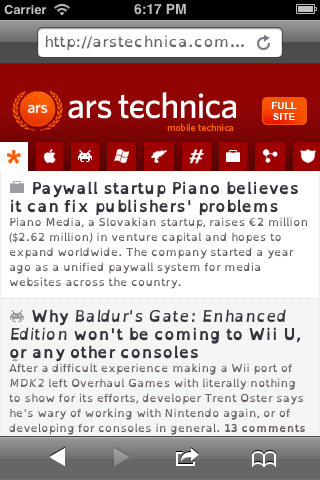 Since this is, of course, my primary mobile browser, I will be improving it of course. Lots of feature requests for stuff, but stuff that is useful to me gets top priority of course (unless you donate, in which case, I'll let you pick a feature equivalent to the amount of your donation.
).
It's currently in the App Store here, and it is currently free. The price will stay the same tomorrow, and the next day, and so on, so download today!
(cheapest browser of its kind in the App Store. *Cough* *Cough*)